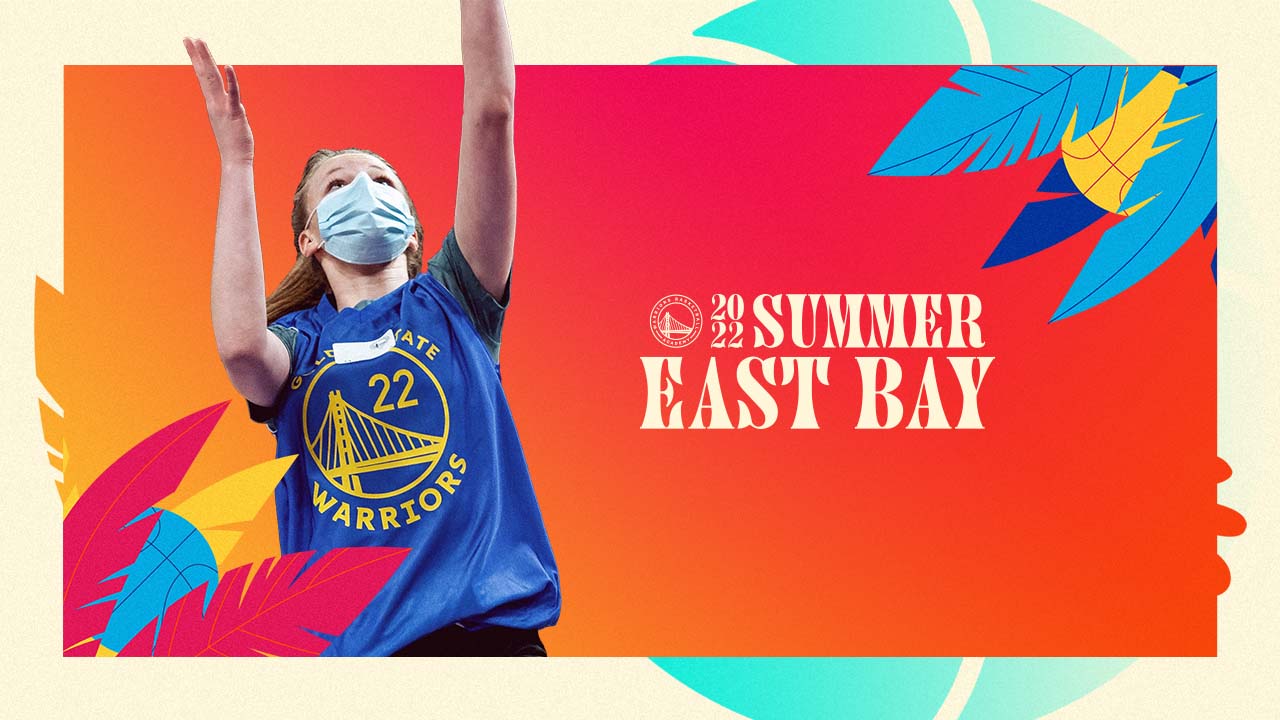 EAST BAY SUMMER CAMPS are back!
These sessions are for boys & girls, ages 7-15, of all skill levels and abilities.
These 4-day or 5-day sessions will feature indoor and outdoor activities at each location.
All participants will receive high quality instruction, a reversible camp jersey, headband, certificate of participation and more!
Early registration and sibling discounts are available!
WARRIORS GAME TICKETS - ALL SESSIONS INCLUDE $100 TICKET CREDIT TO USE TOWARDS A 2022-23 WARRIORS HOME GAME!* 
*Ticket Credit may be used toward the purchase of two (2) tickets to a Golden State Warriors home game to be offered by the Golden State Warriors or Warriors Basketball Academy in their sole discretion.  Depending on the game selected, your Ticket Credit may not satisfy the full cost of two (2) tickets. All tickets are subject to availability and subject to Warriors ticketing policies, terms and conditions.
In the best interest of fans and staff, the Golden State Warriors and Santa Cruz Warriors are monitoring local COVID-19 trends and will meet or exceed protocols mandated by local governments. By utilizing your credit and/or tickets to this event, you agree to abide by the health and safety measures in effect at the time of the event, which may include, but not be limited to, wearing masks, providing proof of vaccination status and/or providing proof of negative COVID-19 test. See Chase Center Fan Safety Guidelines at chasecenter.com/fan-safety and Kaiser Permanente Arena Fan Safety Guidelines at santacruz.gleague.nba.com/fan-safety. Check back often for updates, as guidelines are subject to change.
Session I

---

Pine Valley Middle School, San Ramon

June 6-10 

Monday-Thursday: 9AM - 3PM

Friday: 9AM-12:30PM

---

Price: $400 ($425 if registered after May 11)*

*Includes $100 ticket credit towards a 2022-23 Warriors home game

SOLD OUT - WAITING LIST CLOSED

Session VIII

---

The Bay Club, Pleasanton

June 20-23 

Monday-Wednesday: 9AM - 3PM

Thursday: 9AM-2:30PM

---

Price: $350 ($375 if registered after May 11)*

*Includes $100 ticket credit towards a 2022-23 Warriors home game

SOLD OUT - WAITING LIST CLOSED

Session X

---

Freedom High School, Oakley

June 20-23 

Monday-Wednesday: 9AM - 3PM

Thursday: 9AM-2:30PM

---

Price: $350 ($375 if registered after May 11)*

*Includes $100 ticket credit towards a 2022-23 Warriors home game

 
Session XIV

---

The Ultimate Fieldhouse, Walnut Creek

July 5-8 

Tuesday-Thursday: 9AM - 3PM

Friday: 9AM-2:30PM

---

Price: $350 ($375 if registered after May 11)*

*Includes $100 ticket credit towards a 2022-23 Warriors home game

 

Session XXI

---

Pine Valley Middle School, San Ramon

July 18-22 

Monday-Thursday: 9AM - 3PM

Friday: 9AM-12:30PM

---

Price: $400 ($425 if registered after May 11)*

*Includes $100 ticket credit towards a 2022-23 Warriors home game

SOLD OUT - WAITING LIST CLOSED

Session XXV

---

Tice Valley Gymnasium, Walnut Creek

August 1-5 

Monday-Thursday: 9AM - 3PM

Friday: 9AM-12:30PM

---

Price: $400 ($425 if registered after May 11)*

*Includes $100 ticket credit towards a 2022-23 Warriors home game

 
Session XXVI

---

Iron Horse Middle School, San Ramon

August 1-5 

Monday-Thursday: 9AM - 3PM

Friday: 9AM-12:30PM

---

Price: $400 ($425 if registered after May 11)*

*Includes $100 ticket credit towards a 2022-23 Warriors home game

 

Session XXIX

---

Silliman Activity Center, Newark

August 8-12 

Monday-Thursday: 9AM - 3PM

Friday: 9AM-12:30PM

---

Price: $400 ($425 if registered after May 11)*

*Includes $100 ticket credit towards a 2022-23 Warriors home game

 
OUR HEALTH & SAFETY PROTOCOLS ARE SUBJECT TO CHANGE BASED ON APPLICABLE LAW INCLUDING ANY LOCAL HEALTH ORDERS. TO VIEW OUR CURRENT HEALTH & SAFETY PROTOCOLS CLICK HERE