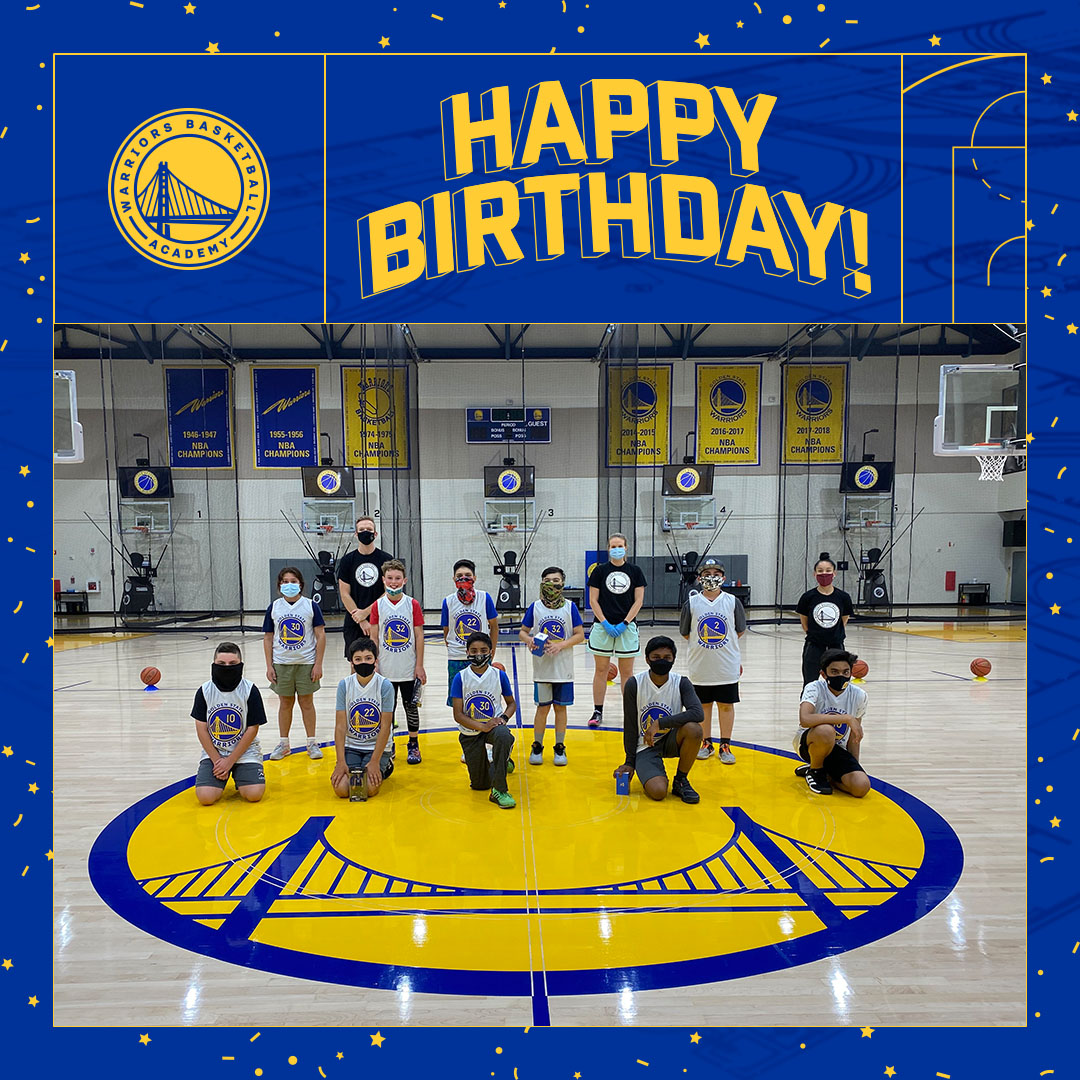 Celebrate like a Champion!  Host your next Birthday with Warriors Basketball Academy!
All workouts will be held at the Warriors Basketball Facility in Oakland where Steph, Klay and Draymond became Champions!
Birthday Workout Details:
Up to 10 participants total (Ages 9-17)
90 minute experience for the entire group including:

30 minutes in our Shoot 360 Skill Cages (passing and ball-handling games/competitions)
30 minutes in our Shoot 360 Shooting Cages (shooting games/competitions)
Goodie bags for all participants (includes reversible camp jersey, Warriors Basketball Academy facemask and more!)
Awards ceremony with prizes for competition winners
Physically distanced photo opportunities for your entire group

Food and drinks are not allowed.
Gifts can be collected upon arrival, but we do not allow for time to open gifts on site
All staff, participants and parents/guardians will be subject to health and safety requirements of Warriors Basketball Academy including, but not limited to, screening questionnaire on the day of the Birthday Workout
Unique Experience for the Birthday Star:
Championship Locker Room Experience

Photos of the birthday star in their very own customized Golden State Warriors Locker!

Up to 4 more members of the same household are welcome to join

One parking validation provided for family of the Birthday Star
Birthday Star Goodie bag including

Reversible Warriors Camp Jersey
Reversible Warriors Camp shorts
Warriors Basketball Academy facemask
Warriors Basketball Academy t-shirt and more!
$700

Mondays from 2:45-4:15PM or 3:45-5:15PM
Thursdays from 2:45-4:15PM or 3:45-5:15PM
Fridays from 2:45-4:15PM or 3:45-5:15PM

$850

Saturdays from 2:45-4:15PM, 3:45-5:15PM or 4:45-6:15PM
*All times include instructions/warm-up, 60 minutes in Shoot 360 cages, photo opportunities and prize distribution
**Birthday workouts must be scheduled a minimum of 2 weeks in advance
Contact Chanel Antonio at cantonio@warriors.com for more information on how to book your child's Birthday Workout.